Welcome to STEELMANS PUBLIC SCHOOL
Nestled in the cradle of nature, Steelmans Public School is a nurturing community of students, which welcomes a rich diversity of backgrounds and ethnicities, following the Central Board of Secondary Education (C.B.S.E) curriculum from primary classes to XII grades. Committed to the pursuit of excellence, the school prides itself in being an institution which encourages its students to share their perspectives, so as to facilitate the students to be critical of the world and to gain a thorough understanding.Steelmans Public School is an educational eco system which is home to students hailing from varied backgrounds. Providing them with the highest aspirations in learning, the school works tirelessly towards inculcating values that would help them meet challenges in their present and future lives. Nurturing the ideas of self awareness and self respect, Steelmans Public School help the students acquire a seasoned set of values and beliefs which make them in their own to live lives as independent, self motivated adults with the will to contribute to the welfare of others and of the society. The school's infrastructure helps promote creativity in the students while serving as a relaxing environment to inspire a yearning for knowledge. Comprising of over 39000 square feet of state of art infrastructure spread over 6 acres of landscaped greens, school promotes a holistic learning environment. Weaving a strong moral fabric which promotes ethical thinking and behaviour. Steelmans Public School seeks to shape future citizens who pride themselves in their wisdom, leadership and education, which has become a hallmark of our value based schooling.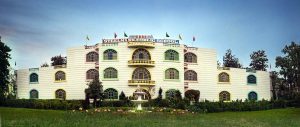 Thought of the Day !
Video of the Day !
Mandatory Public Disclosure
STEELMANS PUBLIC SCHOOL
A: GENERAL INFORMATION
| | | |
| --- | --- | --- |
| SL NO. | INFORMATION | DETAILS |
| 1 | NAME OF THE SCHOOL | STEELMANS PUBLIC SCHOOL |
| 2 | AFFILIATION NO. (IF APPLICABLE) | 1630372 |
| 3 | SCHOOL CODE (IF APPLICABLE) | 20364 |
| 4 | COMPLETE ADDRESS WITH PIN CODE | Patiala-Sangrur Road, Channo, District Sangrur-148001 |
| 5 | PRINCIPAL NAME & QUALIFICATION | ANJALI GAUR |
| 6 | SCHOOL EMAIL ID | info@steelmansschool.com |
| 7 | CONTACT DETAILS (LANDLINE/MOBILE) | 9888451930 |
B:

DOCUMENTS AND INFORMATION
| | | |
| --- | --- | --- |
| SL NO. | DOCUMENTS / INFORMATION | UPLOAD DOCUMENTS |
| 1 | COPIES OF AFFILIATION/UPGRADATION LETTER AND RECENT EXTENSION OF AFFILIATION ,IF ANY | AFFILIATION CERTIFICATE |
| 2 | COPIES OF SOCIETIES/TRUST/COMPANY REGISTRATION/RENEWAL CERTIFICATE, AS APPLICABLE | SOCIETIES REGISTRATION |
| 3 | COPY OF NO OBJECTION CERTIFICATE (NOC) ISSUED,IF APPLICABLE, BY THE STATE GOVT/UT | NOC |
| 4 | COPIES OF RECOGNITION  CERTIFICATE UNDER RTE ACT, 2009, AND ITS RENEWAL IF APPLICABLE | RECOGNITION  CERTIFICATE |
| 5 | COPY OF VALID BUILDING SAFETY CERTIFICATE AS PER THE NATIONAL BUILDING CODE | BUILDING SAFETY |
| 6 | COPY OF VALID FIRE SAFETY CERTIFICATE ISSUED BY THE COMPETENT AUTHORITY | FIRE SAFETY |
| 7 | COPY OF THE DEO CERTIFICATE SUBMITTED BY THE SCHOOL FOR AFFILIATION/UPGRADATION/EXTENSION OF AFFILIATION OR SELF CERTIFICATION BY SCHOOL | SELF CERTIFICATION |
| 8 | COPY OF VALID WATER,HEALTH AND SANITATION CERTIFICATES | WATER CERTIFICATE |
NOTE;   THE SCHOOLS NEEDS TO UPLOAD THE SELF ATTESTED COPIES OF ABOVE LISTED DOCUMENTS BY  CHAIRMAN/MANAGER/SECRETARY AND PRINCIPAL IN CASE, IT IS NOTICED AT LATER STAGE THAT UPLOADED DOCUMENTS ARE NOT GENUINE THEN SCHOOL SHALL BE LIABLE FOR ACTION AS PER NORMS.
C:

RESULT AND ACADEMICS
| | | |
| --- | --- | --- |
| SL NO. | DOCUMENTS / INFORMATION | UPLOAD DOCUMENTS |
| 1 | FEE STRUCTURE OF THE SCHOOL | FEE STRUCTURE |
| 2 | ANNUAL ACADEMIC CALENDAR | ACADEMIC CALENDAR |
| 3 | LIST OF SCHOOL MANAGEMENT COMMITTEE(SMC) | SMC |
| 4 | LIST OF PARENTS TEACHERS ASSOCIATION (PTA) MEMBERS | PTA |
| 5 | LAST THREE-YEAR RESULT OF THE BOARD EXAMINATION AS PER APPLICABILITY |   |
RESULT CLASS:X
| | | | | | |
| --- | --- | --- | --- | --- | --- |
| S. NO. | YEAR | NO. OF REGISTERED STUDENTS | NO. OF STUDENTS PASSED | PASS PERCENTAGE | REMARKS |
| 1. | 2018-2019 | 55 | 55 | 100 |   |
| 2. | 2019-2020 | 71 | 71 | 100 |   |
| 2. | 2020-2021 | 54 | 54 | 100 |   |
RESULT CLASS: XII
| | | | | | |
| --- | --- | --- | --- | --- | --- |
| S.NO | YEAR | NO. OF REGISTERED STUDENTS | NO. OF STUDENTS PASSED | PASS PERCENTAGE | REMARKS |
|  1. | 2018-2019 | 50 | 50 | 100 |   |
| 2. | 2019-2020 | 66 | 66 | 100 |   |
| 3. | 2020-2021 | 59 | 59 | 100 |   |
D:

STAFF (TEACHING)
SL NO.
INFORMATION
DETAILS
1
PRINCIPAL
1
2
TOTAL NO. OF TEACHERS
38
11
13
12
2
3
TEACHERS SECTION RATIO
 
4
DETAILS OF SPECIAL EDUCATOR
Mr. Jasbir Singh Dhindsa
5
DETAILS OF COUNSELOR AND WELLNESS TEACHER
Mrs. Sujata Kumari
E:

SCHOOL INFRASTRUCTURE
| | | |
| --- | --- | --- |
| SL NO. | INFORMATION | DETAILS |
| 1 | TOTAL CAMPUS AREA OF THE SCHOOL (IN SQUARE MTR) | 3900 |
| 2 | NO. AND SIZE OF THE CLASS ROOMS (IN SQ.FT MTR) | 432 |
| 3 | AND SIZE OF LABORATORIES INCLUDED COMPUTER LABS( IN SQ MTR) | 600 |
| 4 | INTERNET FACILITY (Y/N) | yes |
| 5 | NO. OF GIRLS TOILETS | 34 |
| 6 | NO. OF BOYS TOILETS | 20 |
| 7 | LINK OF YOUTUBE VIDEO OF THE INSPECTION OF SCHOOL COVERING THE INFRASTRUCTURE OF THE SCHOOL | https://www.youtube.com/watch?v=ObN6Wf6vAXM |